April 19, 2020, 0 Comments
8 Digital Marketing Best Practices for 2020 and Beyond
Technology is constantly moving and shaking. To help you stay competitive in this constantly changing landscape, we're going to share the digital marketing best practices you need to focus on right now.
In this article, you'll get digital marketing tips you can integrate with your existing digital marketing strategy.
Before we get into our digital marketing best practices, let's briefly cover the basics of digital marketing.
1. Chatbots & Conversational Marketing
Conversational marketing uses automated technology, usually including artificial intelligence. It includes everything from email marketing to customer feedback and helps online shoppers and brands connect with each other through chat and voice.
With the growth of messaging apps, chatbots have enormous reach. In fact, as of 2017, global monthly active users of the top 4 messaging apps surpassed users of the top 4 social networks.
Chatbots are a great way to get started with conversational marketing. They can keep you up and running 24/7, are cost-effective, and give you a direct line to your audience.
2. Voice Search
Voice search using smartphones with voice assistants and smart speakers is going to continue to grow.
And it's not just about finding info.
Voice commerce sales hit about $1.8 billion in 2018, with estimates putting sales at $40 billion by 2022.
While research is the most common use case for voice right now, 22% of shoppers say they use voice to make a purchase. With the number of voice users increasing each year, the number using voice to shop will likely continue to rise.
3. Personalization
More than 70% of consumers get frustrated when content has nothing to do with them. When their experience is personalized, though, nearly 50% of consumers will spend more.
So, your bottom line improves and your visitor feels important. It's a win-win.
4. Video Marketing
Video marketing is any type of video you record and post with the intention of moving you towards your business goals. And it doesn't just happen on YouTube.
Social media platforms like Facebook, Twitter, Instagram, Snapchat, and maybe even TikTok are also great places for video marketing content.
5. Micro-Moments
Micro-moments are intent-rich moments when a person heads to a device to act on a need to know, to go, to do, or to buy.
Think With Google illustrates these micro-moments for us: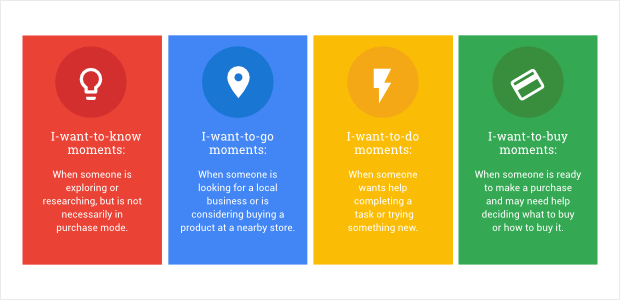 Micro-moments are important because everyone wants to have their needs met. Consumers are drawn to brands that can meet their needs quickly.
6. Social Commerce & Shoppable Posts
No digital marketing best practices post would be complete without mention of social commerce.
You already know that a strong social media marketing strategy is important for driving traffic to your site, building brand recognition, building community, and building brand loyalty.
7. Omnichannel Marketing
Omnichannel marketing sounds complicated, but it really just means marketing across multiple platforms. This helps you create a consistent voice and brand message.
Using omnichannel marketing creates multiple touchpoints between you and your target audience. Research has found that this produces:
Higher engagement: Using 3 or more channels in an automation workflow got an 18.96% engagement rate compared to a single-channel engagement rate of 5.4%.
Increased purchase frequency: Customers bought 250% more frequently when interacting with 3 or more channels.
Increased average order value: Customers interacting with campaigns using 3 or more channels spent 13% more on average.
Higher customer retention rates: Those who engaged with 3 or more channels were 90% more likely to be repeat purchasers.
8. Privacy Marketing
With the rise of consumer privacy measures like GDPR and the California Consumer Privacy Act, marketers will need to be even more intentional with their targeting if they want to engage users.
This is where the original article was published.